July 14, 2023 | Recipes | Maryanne Karuga
Kenyan Beef Pilau Recipe
At every Mellowood event, you can always expect Mariam's Special Pilau; however, if you're feeling adventurous, here's a Beef Pilau Recipe for you to experiment with at home. For a perfect pairing, we recommend Mellowood's 2020 Estate Syrah and 2018 Estate Zinfandel wines.
Recipe: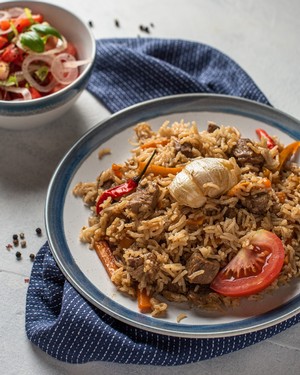 Ingredients:
500 grams beef, cut into cubes
2 cups basmati rice
2 onions, finely chopped
3 cloves garlic, minced
1-inch piece of ginger, grated
3 tablespoons vegetable oil
2 tomatoes, chopped
2 tablespoons pilau masala (or a mix of ground cumin, coriander, cinnamon, cardamom, and cloves)
1 teaspoon turmeric powder
4 cups beef or vegetable broth
Salt to taste
Fresh coriander leaves for garnish (optional)
Lemon wedges for serving
Instructions:
1. Rinse the basmati rice in cold water until the water runs clear. Soak the rice in water and set aside.
2. In a large pot or deep pan, heat the vegetable oil over medium heat. Add the chopped onions and sauté until they turn golden brown.
3. Add the minced garlic and grated ginger to the pot. Cook for an additional 1-2 minutes, stirring frequently.
4. Add the beef cubes to the pot and cook until they are browned on all sides.
5. Stir in the pilau masala (or the mix of ground spices), turmeric powder, and salt. Mix well to coat the beef and onions with the spices.
6. Add the chopped tomatoes and cook until they soften and release their juices.
7. Drain the soaked rice and add it to the pot, stirring gently to combine it with the beef and spices.

8. Pour in the beef or vegetable broth. Bring the mixture to a boil, then reduce the heat to low.

9. Cover the pot with a tight-fitting lid and let it simmer for about 20-25 minutes, or until the rice is cooked and tender and the liquid is absorbed. Avoid stirring the rice during this time to prevent it from becoming mushy.

10. Once the rice is cooked, remove the pot from the heat and let it sit, covered, for an additional 5-10 minutes to allow the flavors to meld together.
11. Fluff the rice with a fork and transfer the pilau to a serving dish. Garnish with fresh coriander leaves, if desired.
Pilau Side Dish Recipe:
To complete your pilau meal, a side dish is a must. In Kenyan cuisine, it's customary to serve pilau with either kachumbari (a flavorful salsa) or a refreshing tomato-cucumber salad (yum!).
Kachumbari (salsa) recipe: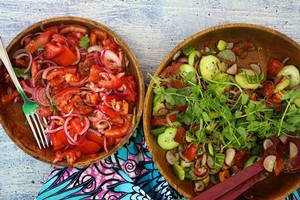 Ingredients:
2 tomatoes, diced
1 red onion, finely chopped
1 cucumber, diced
1 small bunch of cilantro (coriander), finely chopped
Juice of 1-2 lemons (adjust according to taste)
1 tablespoon olive oil
Salt and pepper to taste
Instructions:
1. In a mixing bowl, combine the diced tomatoes, red onion, cucumber, and chopped cilantro.

2. In a separate small bowl, whisk together the lemon juice, olive oil, salt, and pepper.

3. Pour the dressing over the vegetable mixture and toss well to combine, ensuring all the vegetables are coated with the dressing.

4. Taste and adjust the seasoning if needed, adding more lemon juice, salt, or pepper according to your preference.

5. Let the Kachumbari sit for about 15-20 minutes to allow the flavors to meld together.

6. Serve the Kachumbari as a refreshing salad alongside grilled meats, pilau, chapati, or any other East African dishes.

Enjoy the vibrant and flavorful Kachumbari salad!
Feel free to adjust the recipe to your liking and enjoy your homemade Kachumbari!
---
Comments