OUR TEAM
Wine is our passion, and something we both grew up with. We are excited to raise our family in the winemaking tradition. We believe in a light hand in the vineyards and the cellar, and that organic farming is critical to maintaining our property for future generations.
---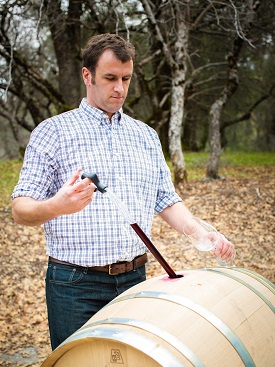 Guillaume Maugeais
Owner & Winemaker
Guillaume was born in Brittany, France. His father was in trucking and his family moved around, while his grandparents were in agriculture. He wanted a life of adventure, and attempted to join the military before being accepted to the school of viticulture in Beaune at the age of 18.
After earning his B.A. in Agronomy he worked in sales and marketing of wine, learned distillation in Cognac, and spent time working harvest in both Australia and New Zealand before landing a job with a barrel producer. Guillaume's day job is still in wine barrel production and his company supplies barrels to many local wineries.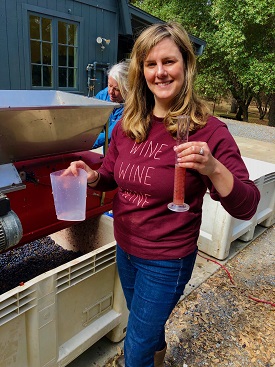 Martine Piazza
Owner & Manager
Martine's family came to the U.S. from Sicily, and actually bootlegged wine in San Francisco during Prohibition. They ended up as growers, with a vineyard and olive orchard in Orland, CA.
Martine grew up in Sonoma County in Sebastopol, but her grandparents lived in El Dorado. She remembers visiting local wineries in El Dorado, including Miraflores, Perry Creek, and Charles B. Mitchell as a child with her family. She has always loved being in wineries, and studied viticulture at Santa Rosa Junior College. She and Guillaume also farm a small Pinot Noir vineyard near their home in Santa Rosa.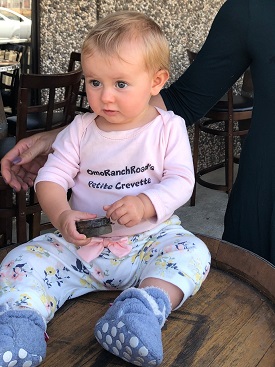 Sophie the Intern
Le Petite Crevette
Sophie has great genes. Her father, Guillaume, is French and her mother, Martine, is of Italian descent. Her future will surely include amazing food, a family full of love, and, when she's old enough, some fabulous wines from Mellowood.
2019 was Sophie's first harvest, and she's already showing an affinity for the hustle and bustle of winemaking life. She loves taking long walks in the vineyard with mom and dad.