News
Winter 2018/2019
This year has been an incredible one for Martine and Guillaume. In early 2018 they were looking for a new challenge in their life when they found Mellowood Vineyard. They both went to work renovating the tasting room, connecting with the wine community and the vines themselves on this picturesque and amazing land.
During this time Martine became pregnant and their biggest joy was added to their life! Sophie arrived, December 1st, after a great harvest and with all the wine in the barrels for the winter! Sophie has great genes. Her dad is French and Mom is of Italian descent. Her future will surely include amazing food, a family full of love, and, when she's old enough, some fabulous wines from Mellowood. Guillaume is already planning to bottle magnums of the Mellowood Estate Zin 2018 to age for his daughter.
Winter in the Vineyard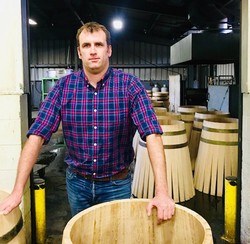 Winter in the cellar is an important time for our winemakers. As Guillaume often says, "Wood is like the spice of the wine." Making wine can be compared to cooking food. If you over-season a recipe, the delicate flavors disappear. So deciding the amount of new oak or the type of barrel to use for aging is crucial to preserving balance.
Guillaume always looks for balanced wines that are the ultimate expression of the land. Less than 30% of the barrels used are new oak, used to stabilize the colors and when necessary add some structure. At Mellowood we have decomposed granite, acidic soils, so the vines will produce fruity and acidic wines, and we want to highlight this flavor in our wines.
Guillaume this year has selected a few different types of both French and American oak barrels. The French oak has a tight grain so that wine will have fine tannins and a subtle impact of the oak. Fresh wood, fresh hazelnut, dry fruits, toasted brioche, grilled almonds and tobacco are the type of flavors that usually result from French oak. American oak enhances the wine with flavors such as coconut, vanilla, cinnamon, toffee, and cocoa. This type of barrel works well for Syrah and Zinfandel.
The wine will age for more than a year, where it will soften and integrate the tannins of the oak. It will be ready to drink by 2020.

Hey there, folks! We're here to take you on a journey back to the awesome day we had at our Country Market. It was a day filled with mouth-watering Kenyan BBQ and Mariam's Special Rice, accompanied by a refreshing tomato-cucumber salad. And to make things even better, we had the talented Will Hogan serenading us with live music while we strolled through the beautiful tree-covered grounds.
But the real stars of the show were the adorable Alpacas of El Dorado, led by none other than the magnificent alpaca herd sire, Captain Jack Sparrow, who joined us for unforgettable pictures. These fluffy cuties stole our hearts and had us going "aww" the whole time. They brought along a range of amazing alpaca products that we couldn't resist exploring. From cozy alpaca wool garments that felt like a warm hug to unique accessories that added flair to our outfits, they had it all. And let's not forget the star of the herd, Captain Jack Sparrow. This majestic alpaca was an absolute charmer, posing with us for the most epic pictures ever.
Our day at the Country Market was an absolute blast! From the mouthwatering Kenyan BBQ and Mariam's Special Rice to the captivating live music by Will Hogan, every moment was filled with joy and relaxation. And of course, the Alpacas of El Dorado added that extra touch of cuteness and excitement. We hope you get the chance to experience the magic of our Country Market someday – it's an adventure you won't want to miss!