July 10, 2023 | Summer Events at Mellowood | Maryanne Karuga
Ambassador Kwaka Uncorks The Global Presence of Mellowood Vineyard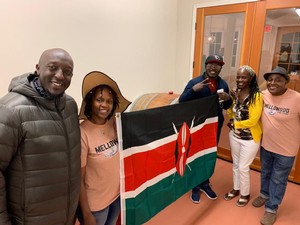 In an exciting visit that combined diplomacy and a love for great wine, Thomas Kwaka, Kenya's ambassador, recently explored Mellowood Vineyard. This special event not only celebrated the fusion of culture, diplomacy, and the art of winemaking but also gave us a sneak peek into Kenya's important role on the global stage.
A Blend of Wine, Excitement, and Diplomatic Delight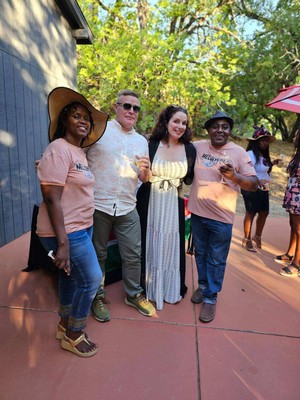 As Ambassador Kwaka stepped foot into Mellowood, you could feel the buzz of excitment and the joy on everyone's faces. Wine enthusiasts were excited to share their favorite wines, talking about flavors and giving recommendations. Those who love diplomacy found themselves engaged in conversations about global issues and the importance of understanding different cultures. It was a place where everyone felt included and could enjoy their shared passions.
Getting To Know The Winemaking Process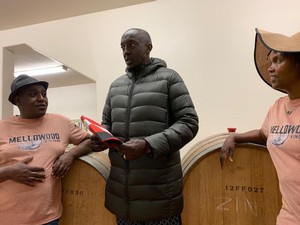 During his visit, Ambassador Kwaka had a chance to get a behind-the-scenes look at how Mellowood wines are made. Karuga and Mariam shared their passion and expertise, giving him an insight into the traditional winemaking techniques used at the vineyard. As a special treat, they even gave him a bottle of their 2018 Mellowood Zinfandel, which won a Double-Gold!
Tasting the Fruits of the Vineyard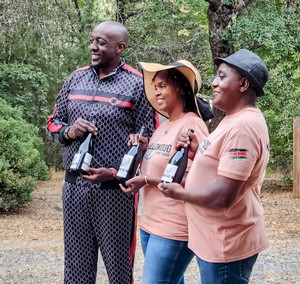 Of course, no visit to a vineyard is complete without a taste of the wine! Ambassador Kwaka had the pleasure of sampling a variety of Mellowood's award-winning wines. From the crisp whites to the bold red, each sip told a story of the vineyard's dedication to quality and taste. The ambassador was truly impressed by the flavors and complexities of the wines, which showcased the unique terroir of the region.
Mellowood receives a special gift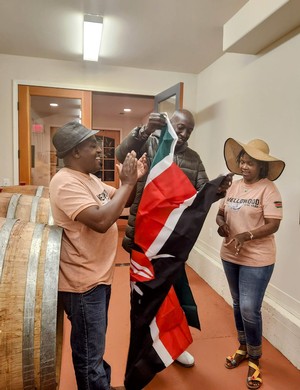 On behalf of the Kenyan government, Ambassador Kwaka presented Mellowood with a Kenyan flag as a symbol of congratulations. This thoughtful gesture served as a tribute to Mellowood's outstanding dedication and success as a shining role model for Kenyans abroad, showcasing the incredible results that can be achieved through determination and perseverance.
Special Shout-Out to Ushirika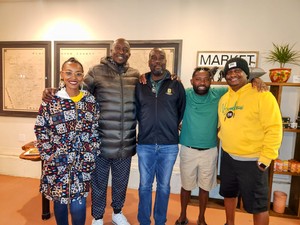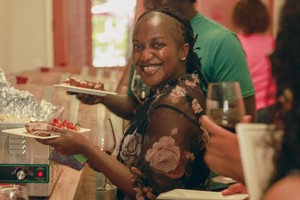 We'd also like to thank Ushirika Kenya for making our event possible. The group went above and beyond by preparing delicious Kenyan dishes like pilau, chapatis, samosas, and other tasty treats just for us. Ushirika Kenya Inc is a non-profit organization that's all about bringing the Kenyan community in Northern California together. Their mission is to build a strong and united community of Kenyan descendants and friends, where diversity and inclusivity are celebrated, and cross-cultural understanding is promoted.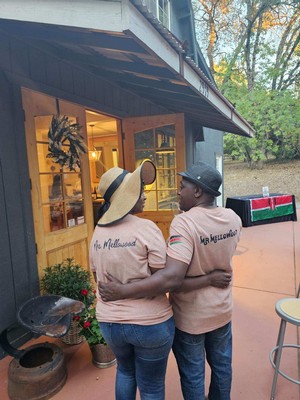 Cheers to Ambassador Kwaka and Mellowood Vineyard for creating a truly memorable experience that showed us the power of cultural exchange, wine, and the importance of connections that can shape a better world.
---
Comments