Stay Inside All Day Rosé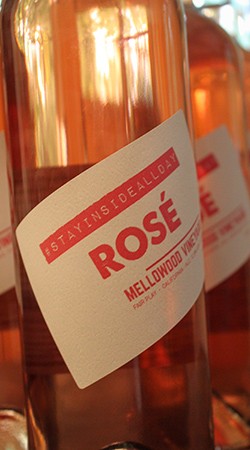 Special Discount on Quarantine Cases: $199.19
A Special Limited-Edition Rosé
#stayinsideallday Rosé is a reminder of how easy it is to stay inside and stay safe, though you could drink it outside if you were so inclined. The name and the label maybe are not so serious, but what's inside the bottle is no laughing matter. What you've got here is a strictly limited-edition (80 cases) bone-dry rosé (rosado if you parla Italiano) made from our estate zinfandel grapes, grown on a hillside block at one of the highest elevations on the property, farmed and picked to make the best rosé.
The grapes were picked at the optimal ripeness for a rosé wine and pressed exclusively for this estate rosé estate program. The #stayinsideallday rosé is some of the best of the lot—guaranteed to make quarantining go down a little easier.
So when someone asks you why you are drinking rosé at 11 a.m., just tell them you're "hashtag staying inside."
Curbaside Pick-Up Available – Call Us at (530) 306-9454.
Wine Specs
Vineyard Designation
Mellowood Vineyard